LANIER PROBATE AND MAGISTRATE COURT OF LANIER COUNTY
Click here for Magistrate Court filings
Civil Judgment and Post Judgment Procedures (PDF)
Please see this page for Magistrate Court Fee Schedule
As of Thursday, May 14th, 2020 the Probate Court Office will open for the public with business as usual with limitations based on State wide Judicial Emergency order dated May 11th, 2020.
We are now accepting appointments for weapons carry permits (renewals and new applications) and for marriage licenses.  Please go to the link below to fill out your applications on-line. If you have do not have a computer call the office and make an appointment and we will give you a blank Weapons Permit Application. Please call our Court at 229-482-3668 to make an appointment, as we are expecting a record number of applicants.  Appointments start at 9:00 and end at 4:00 o'clock p.m.   If you are late for your designated time, you may lose your appointment and have a lengthy wait as those with appointments will have priority. Please call our Court to avoid any issues. With the safety of the citizens, and our staff in mind, when entering the Courthouse you will need to do the following before you are allowed into our office for your appointment:
Until further notice, please bring a mask, scarf, or bandana with you to cover your mouth, and nose as new applicants will be up close and personal with our clerks. Our staff will be covered for your protection as well.
Your temperature will be checked at the door of the Courthouse (with a no-contact thermometer). Anyone having a temperature of 100 or over, will be turned away. Please do not come to the Courthouse if you are sick.
Please do not bring any additional family members with you.
For Weapons Carry License applicants, you must bring a valid Georgia Driver's License with your CURRENT Lanier County address or a current DMV receipt with your photo on it. If you are military, please bring proof of residence.
For new Weapons Carry License applications, after completing the application process at the Courthouse, you will be required to go the LANIER COUNTY Sheriff's Office to be fingerprinted.  NO CASH!  Cashier Check, Money Order, Credit Card or Debit.
Probate Office does accept exact cash and change.
Cost of the license is: $78.25 – ($30.00 Probate fee, $48.25 for fingerprinting at Sheriff's Office.)
RENEWALS:   $30.00
Use this link for Weapons Carry License application
MARRIAGE LICENSE:   $ 76.00
With Counseling: $ 36.00
Use this link for Marriage License Application
Vitals Records, such as Birth and Death Certificates, can be purchased at the Probate Court without an appointment.  $25.00 a copy and $5 for an additional copies.
Identification Card is required.
These rules are in place to provide an efficient flow for the maximum number of applicants per day, while keeping everyone as safe as is possible. Please exercise patience and understanding during a time that is uncertain for all of us.
Again, if you have any questions concerning the requirements listed above, please call 229-482-3668 for assistance.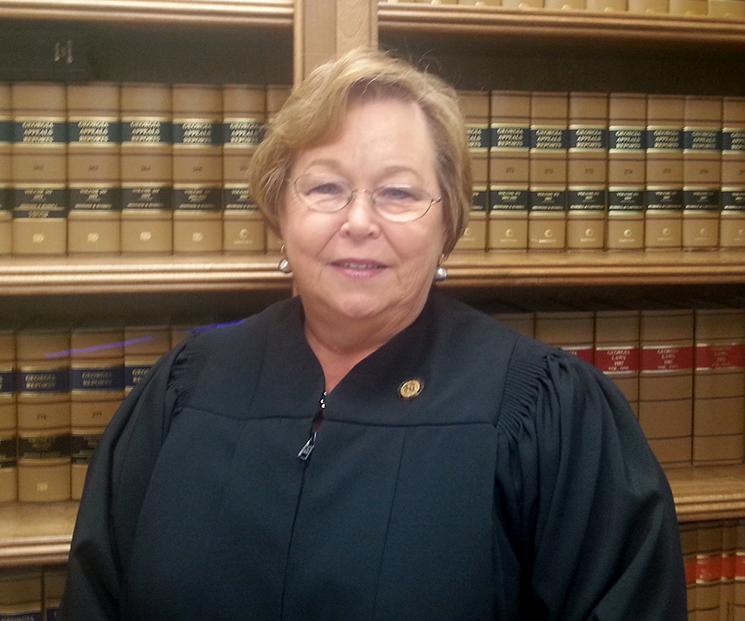 JUDY B. MULLIS
PROBATE JUDGE & CHIEF MAGISTRATE
Associate Magistrate Judge:     Mabel Bolling
Probate Court Clerk:                  LINDA BERRY:
Magistrate Court Clerk;             Mabel Bolling
Address: 56 W. Main Street
Suite 10
Lakeland, GA  31635
Phone:   229-363-9270   (Magistrate) 229-482-2207
Fax:     229-482-3680   (Magistrate) 229-482-8358
Email:   lanierprobate1@laniercountyboc.com
Website: laniercountyboc.com
Took office 09/20/1988
Birthday: 11/08
Spouse: Jerry C. Mullis
Jurisdiction:
Traffic, Probate Matters, Guardianships, Weapons Carry License Permits,
Marriage License Applications, Vital Records and Magistrate Court